An authentic blacksmith workshop in Cahul receives modern equipment purchased with the European Union's financial support
Cătălina and Victor Pascal from the Village of Zîrnești, Cahul district, turned their passion for working with iron into business. Victor is one of the few blacksmiths who still forges this metal using a coal furnace. The craft is nothing like easy, requiring lots of dedication, attention to detail, logic, and sense of beauty. His spouse, Cătălina, handles the creative part of the work as well as the management and promotion of the workshop. Their work is appreciated not only in Cahul and the neighboring districts of Cantemir, Leova, and Vulcănești, but also overseas. Some pieces even reached as far as France and Russia, being ordered by Moldovans settled abroad. This year, the Pascal family have won a European grant worth €15,000. With this money and their own contribution of €2,330, they purchased four high-performance equipment that will help them to optimize production and create original items.
The grant was awarded with the European Union's financial assistance as part of the EU4Moldova: Focal Regions Programme, implemented by UNDP and UNICEF.
"Not everyone who welds metal parts is a blacksmith"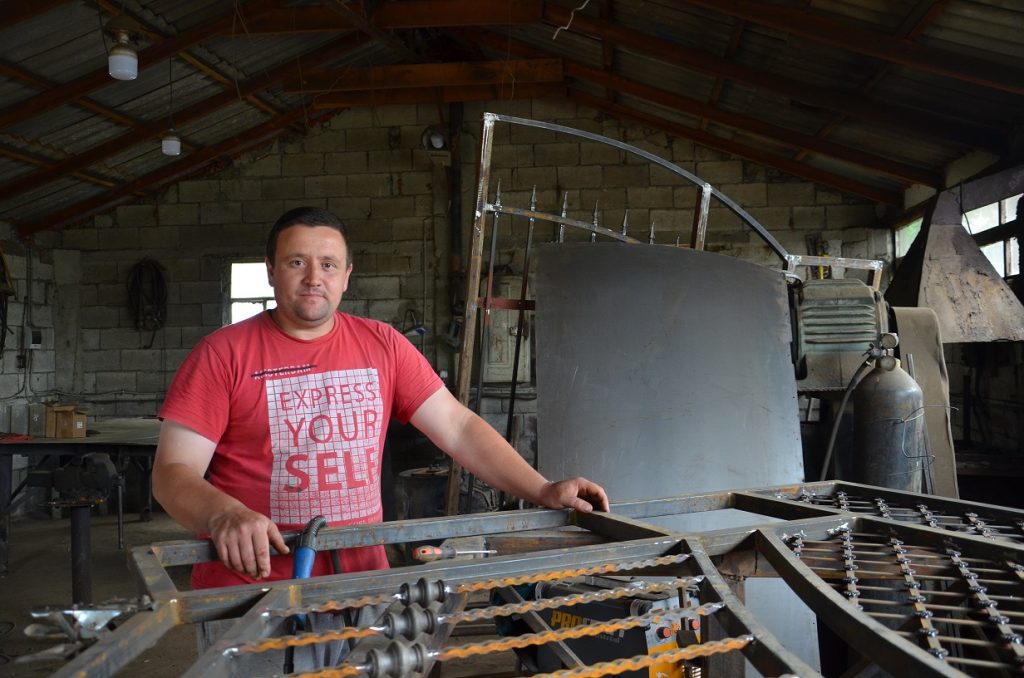 In a workshop full of tools and equipment, Victor Pascal crafts gates, fences, railings, entrance doors, and other pieces of ironwork. He starts working early in the morning and puts lots of dedication and passion into his craft. "Not everyone who welds metal parts is a blacksmith. This work requires precision, attention to details and aesthetic taste," says Victor. He learned the craft of forging iron in childhood, from his father, who grew up among the Roma community and learned this art from them. His spouse, Cătălina, has been with him for almost ten years, eventually taking over the management, design, and marketing parts of the business. "I take orders, do customer relations, set delivery deadlines and handle the financial part of our business," says Cătălina.
The woman—a teacher by profession—admits that it took her several years before she decided to venture into this business: "Ironwork is considered to be a craft for men, rather than women. It wasn't easy, but now I can say I love it, and I am ready to bring the business to a new level."
"We've never received anything for free before"
A few months ago, the Pascals became confident that this craft could become a real business: "For two years we've worked under a business license, and in February 2021, we incorporated our business as a limited liability company. So far, we worked only with individuals, but now our customers include legal entities too," Cătălina says proudly.
In 2021, the couple became one of the beneficiaries of the EU4Moldova: Focal Regions Programme, winning a €15,000 grant. "One evening a friend came to visit us and told us about this program. I couldn't believe there was such a thing! We'd never received anything for free," Cătălina explains.
As a beneficiary of the business grants program, under the start-up category, they received a grant, and adding €2,330 of their own contribution, purchased four modern equipment, namely a cold metal stamping machine, a bending machine with wrought-iron rollers, an electric tube bending machine with a die, and a three-phase air compressor. The equipment will increase the precision and quality of the works and will also optimize the cost and time of production. "These machines will save us time. If previously it would take two weeks to make a gate, now we can complete the same work in just one week," explains Victor.
The new equipment – provided with the EU financial assistance – has recently arrived at the workshop in Zîrnești and makes the family optimistic and confident of their potential to grow. The couple wants to open a small store to sell stamped and twisted-metal items to other blacksmiths. They also plan to enter the market with a new product – entrance doors.
A Moldovan settled in France has entrance doors produced in Cahul
The Pascals' workshop is one of the few in the country that still preserves the tradition of forging metal in a coal furnace, where every single piece of work is one hundred percent handmade. Cătălina draws a sketch, the design of the piece, and Victor makes the work come true. "Some customers are surprised, or even amazed by our work. We are an authentic smithy. Not a single element of decor is commercial off-the-shelf product," the woman notes.
Sometimes their customers come with photos, and they faithfully reproduce the model. "The time that goes into a piece of work depends on its complexity, we have gate models that can take more than a month," Victor admits.
The Pascals consider that their work recommends itself and does them the best advertisement. Their customers are mostly from the south of the country, but they also had orders from Moldovans settled overseas. "Our customers are not only from Cahul and the neighbouring districts of Cantemir or Vulcănești, but also from abroad. For instance, once we received an order for entrance doors from a man who then took them to France. We also had an order from Russia," adds Cătălina.
Artistic ironworking retains its popularity and value thanks to imaginative pieces produced in smithies. Each piece of ironwork has its own uniqueness, and Victor and Cătălina are among the few craftspeople remaining in the Republic of Moldova who keep the old traditions of ironworking.
The couple is one of the 28 beneficiaries of the 2020 edition of the grants program for businesses from the focal regions of Ungheni and Cahul. 16 established companies, 10 start-ups, and 2 social entrepreneurship initiatives have received grants worth €15,000 to 30,000 each.
A new call for applications from entrepreneurs based in the Districts of Ungheni and Cahul, launched as part of the 2021 edition, closed in June, and the submitted applications are now under the final evaluation phase. The total amount of grants that the program expects to award to businesses from the regions of Cahul and Ungheni from 2020 through 2024 is estimated at €1.7 million.
***
The EU4Moldova: Focal Regions Programme (2019 – 2024) supports intelligent, inclusive, and sustainable social-economic development in the regions of Cahul and Ungheni to ensure a better quality of life for citizens. The program has a total budget of €23 million and is financed by the European Union and implemented by the United Nations Development Programme (UNDP) and the United Nations Children's Fund (UNICEF).
More information about the program's work in the regions of Cahul and Ungheni is available at www.eu4cahul.md and www.eu4ungheni.md.