EUBAM working together with Moldovan, Romanian and Ukrainian customs to handle emergency and alleviate the pressure on the border in Reni-Giurgiulești-Galați area 
Under the auspices of the EU Border Assistance Mission to Moldova and Ukraine (EUBAM), trilateral meeting in Giurgiulești, brought together Moldovan, Romanian and Ukrainian customs authorities to enhance the response to arising emergency and to improve cargo flow in Reni-Giurgiulești-Galați area.
One of the essential routes from Ukraine to the EU runs through the Republic of Moldova (Giurgiulești-Reni) and further on to Romania (Giurgiulești-Galați). With the onset of Russian war of aggression and blockade of maritime transportation corridors, these roads in the South are of a vital importance for Ukrainian economy, both in terms of export of agricultural goods and import of so much needed fuel and humanitarian aid. Now, with the intensification of indiscriminate Russian missile strikes at Ukrainian critical infrastructure, the borders between these three countries are even more overloaded and to get from Ukraine to Romania through Moldova for one truck, it can take more than a week.
That's why, on 8 December 2022, in Giurgiulești (Moldova), EUBAM convened a working meeting with management of the regional customs authorities from the Republic of Moldova, Romania, and Ukraine. The participants examined current situation at the borders between the three countries in Reni-Giurgiulești-Galați triangle, looking for practical solutions to alleviate the pressure on the overloaded border infrastructure.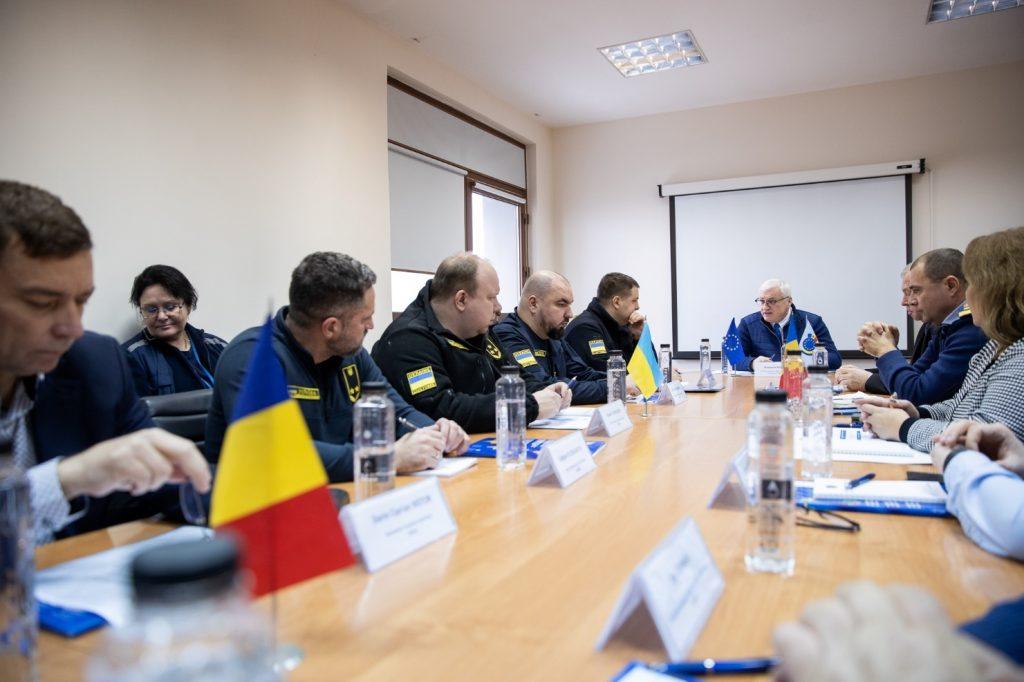 During the meeting, the parties discussed possible ways to optimise contingency procedures to better manage the cargo traffic in case of emergency power outages. The sides noted the importance of delivering new generators, fuel, and uninterruptible power supply systems for Border Crossing Points in Reni-Giurgiulești-Galați area. At the same time representatives of the three customs agencies explored possibilities to enhance organisation of cargo traffic. For instance, the sides indicated the possibility of re-directing trucks to less congested BCPs and revitalising the work of additional BCPs in vicinity of Giurgiulești-Reni.
While discussing the current situation at strategic level, the participants highlighted a need for the swift opening of the Basarabeasca-Berezino rail connection that will allow the daily transportation of more than ten thousand tons of cargo, thus significantly reducing the congestion at the Moldova-Ukraine road BCPs. Parties also underlined the importance of broader use of NCTS for streamlining the cargo flow and increasing awareness of Ukrainian business to use it more actively. In the end, the sides agreed to coordinate joint actions and continue cooperation in handling emergency situations caused by indiscriminate Russian missile strikes.