Groundwater body delineation and data interpretation – workshop led by EU4Environment: Water Resources and Environmental Data
The workshop "Groundwater body delineation and data interpretation" was organised jointly by Austrian Development Agency and the Austrian Environmental Agency on 28 and 29 June 2022.   
The workshop was attended by the representatives of the Agency for Geology and Mineral Resources, State Enterprise "Hydro geological Expedition from Moldova" and the Institute of Chemistry from Moldova.
Two days of workshop were focused on following subjects: groundwater bodies delineation and characterization, groundwater chemical data interpretation. The participants at the workshop have learned about the: Water Framework Directive principles, groundwater codes and passports, approaches and tools for data interpretation, importance of monitoring the conductivity of groundwaters in comparison with monitoring of mineralization, as well as the Austrian example on monitoring and delineation of groundwater bodies in comparison with the practices from Moldova.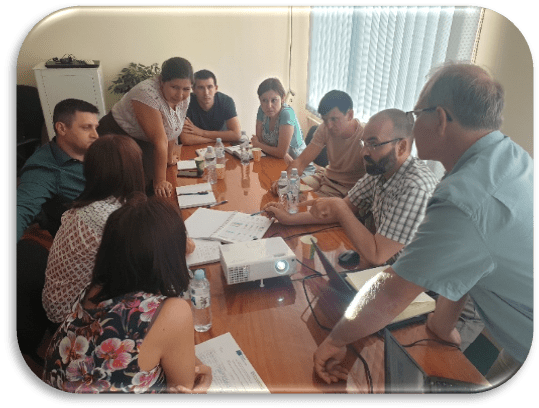 Subsequently, the programme will assist the Moldovan institutions to further improve the monitoring of groundwater bodies as well interpretation of related data. Participants agreed on further activities, which the programme will support. Thus, in Autumn 2022, Austrian Environmental Agency will offer a new certified training as well as practical assistance for the Moldovan institutions in field works for monitoring of groundwaters bodies.
Moreover, the programme will assist the Moldovan institutions to conduct a field survey on monitoring the transboundary groundwater bodies.
EU4Environment Water Resources and Environmental Data Programme aims at improving people's wellbeing in EU's Eastern Partner Countries (Armenia, Azerbaijan, Georgia, Moldova and Ukraine) and enabling their green transformation in line with the European Green Deal and the Sustainable Development Goals. The programme's activities are clustered around two specific objectives: 1) support a more sustainable use of water resources and 2) improve the use of sound environmental data and their availability for policy-makers and citizens. 
The programme is implemented by five Partner organisations: Environment Agency Austria (UBA), Austrian Development Agency (ADA), International Office for Water (OiEau) (France), Organisation for Economic Co-operation and Development (OECD), United Nations Economic Commission for Europe (UNECE). The programme is co-funded by the European Union, the Austrian Development Cooperation and the French Artois-Picardie Water Agency based on a budget of EUR 9,4 million (EUR 8,8 million EU contribution). The implementation period is 2021-2024.