Moldova hosted the 21st EPAC/EACN Annual Conference and General Assembly
The 21st Annual Professional Conference and General Assembly of the European Partners against Corruption and European contact-point network against corruption (EPAC/EACN) took place in Chișinău on 23-24 November 2022.
The two-day conference brought together more than 180 participants from 24 different countries, prominent speakers from international organizations, EU agencies, national authorities and EPAC/EACN members to discuss topics related to the investigation of high-level corruption cases, international cooperation and information exchange, criminal assets recovery, as well as new tools of corruption prevention and risk assessment.
The event was opened by the President of the Republic of Moldova, Maia Sandu. In her opening speech, the President confirmed the EPAC/EACN Conference is a wonderful opportunity for the representatives of Moldovan local authorities to make contacts with experts from different countries and exchange best practices about instruments to fight corruption.
The Ambassador of the Federal Republic of Germany, Margret Maria Uebber, and the EU Ambassador to the Republic of Moldova, Jānis Mažeiks, mentioned that the decision to organize the annual EPAC conference in Chisinau is a strong signal for the efforts made by the Republic of Moldova in fighting corruption and advancing it on the European path.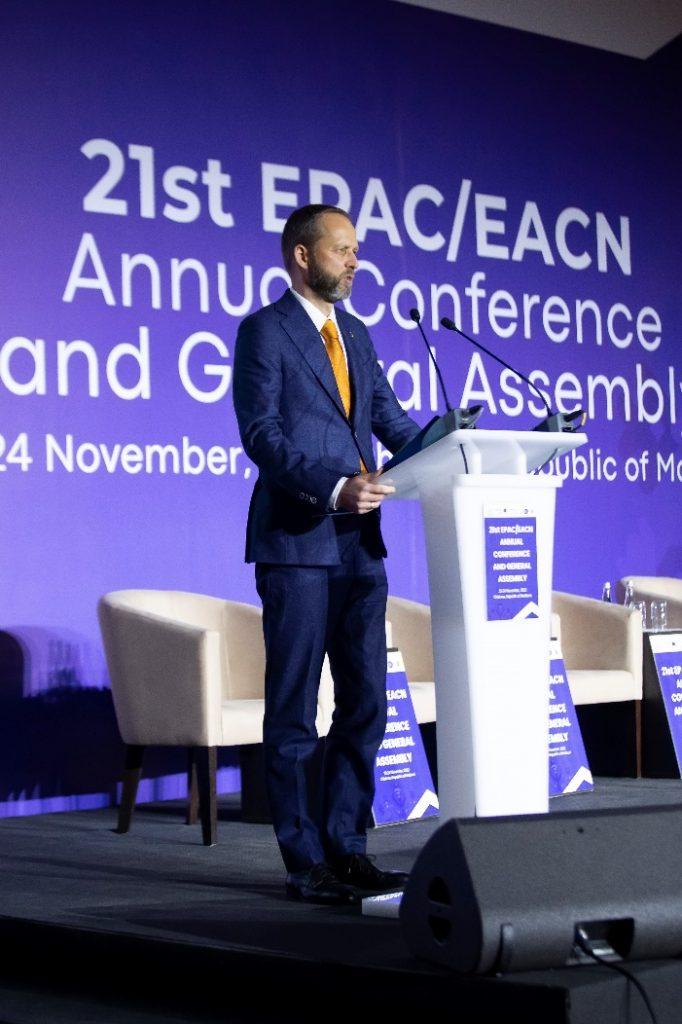 On 5 April 2022, Germany, France, and Romania co-hosted the "Moldova Support Platform" Donors' Conference in Berlin. One of the five thematic Working Groups of the Conference was dedicated to support Moldova in its efforts to fight corruption. Following Moldova's goal of countering corruption as a one of the main priorities for the country's reforms agenda, members of the Working Group have strongly agreed that corruption is a great obstacle to Moldova's path of European integration and country's development as well as a major threat to regional security, especially in the context of the war in Ukraine.
In this context, the Working Group concluded that all anti-corruption efforts that Moldova is taking, shall encompass complex administrative and legislative reforms pertinent to improving the national anti-corruption and integrity landscape; continuously enhancing the capacities of state anti-corruption institutions; scaling up the international legal and law enforcement cooperation to maximize the fight against corruption and recovery of criminal assets.
The EU and the German Government contributes to fulfilling the priorities of the Moldovan Government to counter corruption by raising awareness of citizens and civil society on the harm of corruption and strengthening anti-corruption mechanisms by enhancing the capacity, accountability, and transparency of specialized state anti-corruption institutions, improving their inter-institutional coordination, communication and cooperation, and intensifying their dialogue with civil society.
The support is offered through the Project "Strengthening the rule of law and anti-corruption mechanisms in the Republic of Moldova" implemented by Deutsche Gesellschaft für Internationale Zusammenarbeit (GIZ) GmbH.