With EU support, nine high schools in the Southern region of the Republic of Moldova were equipped with digital laboratories 
Nine high schools in the Cahul region will benefit from state-of-the-art digital equipment, content adapted to the current requirements and modernised learning spaces. Within the project "EU4Moldova: Startup City Cahul", fully equipped digital laboratories have been created, which in the current academic year will be used by about 3,000 students and teachers from institutions connected to the "Tekwill in every school" programme. The initiative aims to create more opportunities for the local community to prepare a generation of future specialists to meet the requirements of the current labor market and to work in the region, at home. 
"At the beginning of the school year, our institution was included in the 'Tekwill in every school' programme, and the students are studying 2 new subjects: Graphic Design and Programming. As children in the villages do not have computers at home, creation of a digital laboratory in our high school will change things a lot," stated Tatiana Buciuceanu, Principal at the 'Alexei Mateevici' Theoretical High School, Alexandru Ioan Cuza village, Cahul district.
"Digita l Lab" helps students to improve their digital skills and provides access to information technologies to those who do not have a device at home. The laboratories will offer high school students an innovative and creative space, divided into 5 thematic areas:
Teacher area, with desk, large screen and interactive whiteboard;
Student area, equipped with 20 laptops, computers and webcams;
Printing area dedicated to printing materials;
Creative area arranged with a board and bean bag chairs
Storage area, for the locker room.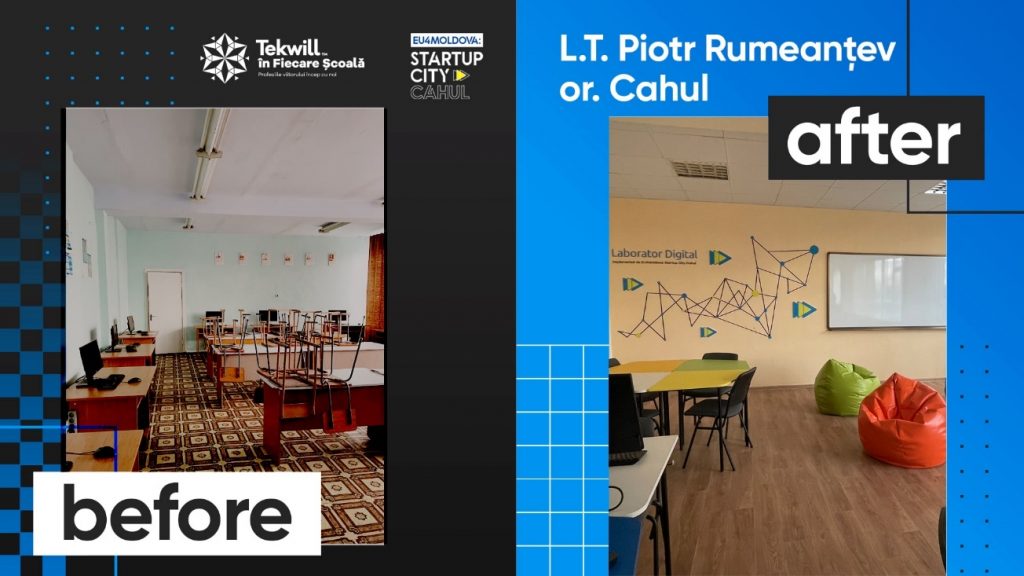 "Digital Lab" meets the educational needs of regional high schools and helps students to train and improve their digital skills – an absolute necessity for today's professions, especially the future ones. With an area of about 50 m2, the laboratories will offer high school students an innovative, creative and fully equipped space to study the disciplines of the future.
The laboratories will be launched soon, the value of the project being about 130,000 EUR. "EU4Moldova: Startup City Cahul" is being implemented in the period 2020-2024 by ATIC, with the financial assistance of the European Union in partnership with Sweden.