Strengthening the role of Moldovan Parliament in the association process with the European Union
On 25 October, over 30 participants took part in a workshop on the topic of strengthening the role of the Parliament of the Republic of Moldova in the association process with the European Union. The workshop was organised by the team of experts of the EU funded project "Support for structured policy dialogue, coordination of the implementation of the Association Agreement and enhancement of the legal approximation process in the Republic of Moldova."
Specifically, the event was designed as an induction of new Members of Parliament (MPs) and staff of the Parliament, as well as a structural platform aiming at sharing of experience to:
Introduce MPs on their legislative, oversight and representative functions, specifically in terms of EU roles and responsibilities and EU main stakeholders;
Increase MPs' knowledge of the legal approximation process and the role of assigned committee(s) and relevant stakeholders;
Provide MPs with a deeper insight into the oversight role of the Parliament in the EU association process;
Map further information needs of MPs.
Primož Vehar, Project Team Leader, former Head of the Secretariat of the Committee on European Affairs in the Slovenian Parliament, briefed the participants on the Association Agreement implementation, including the EU-Moldova working bodies, the main EU integration planning documents and the cooperation with the Government and exchange of information in light of Association Agreement. In addition, the participants were informed about the oversight role of the Parliament in the EU integration process, namely the different tools of oversight with practical examples from the Slovenian Parliament during EU accession process, but also mechanisms of engaging social partners (NGOs, associations, etc.) during Association Agreement implementation.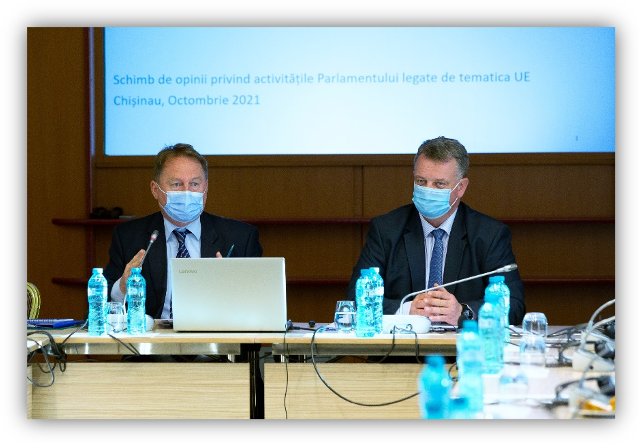 Some of the participants noted throughout the workshop that many of the electronic resources referenced during the one-day induction were new to them and seemed useful for upcoming work in the Parliament. At the same time, the participants discussed the priorities of reform agenda including the fight against corruption, reform of the judiciary and rule of law, respect for human rights, export to the EU markets and trade, etc.
Furthermore, Olev Aarma, Senior Expert, former Head of the Secretariat of the Committee on European Affairs in the Estonian Parliament made an induction into the legal approximation process and role of the Parliament, by pointing out the instruments, methods, techniques and tools of approximation. Mr. Aarma referred to the importance of interaction of the Parliament with Governmental bodies, including the Ministry of Foreign Affairs and European Integration, line ministries, Centre for Legal Approximation etc., and shared best practice examples in area of legal approximation process from Estonia.
Engaging the Parliament in participatory dialogue with a view to forging consensus and contributing to advancing EU-related reforms is vital for the country's progress on its EU path. Hence, as a result of the workshop the new MPs and Parliament staff have been exposed to the variety of opportunities of how the Parliament may engage in the oversight and advancing the Association Agreement linked reforms in the benefit of the citizens of the Republic of Moldova.