Meet Daniela, a girl with Down syndrome, who started a flower business with the support of the European Union
Splashes of red, pink and yellow flowers dot the vibrant hues of green in a greenhouse and gift shop nestled in the village of Colibași, in the southwestern part of the Republic of Moldova. The owner is a girl with Down syndrome who had always dreamed of opening her own business.
According to the Moldovan National Bureau of Statistics, women were three times less involved in economic development than men in 2016. However, things have started to change in the last few years, with women getting more and more involved in entrepreneurship. While a mere 16 per cent of business-owners were women in 2016, their numbers had more than doubled by 2020, to 34 per cent.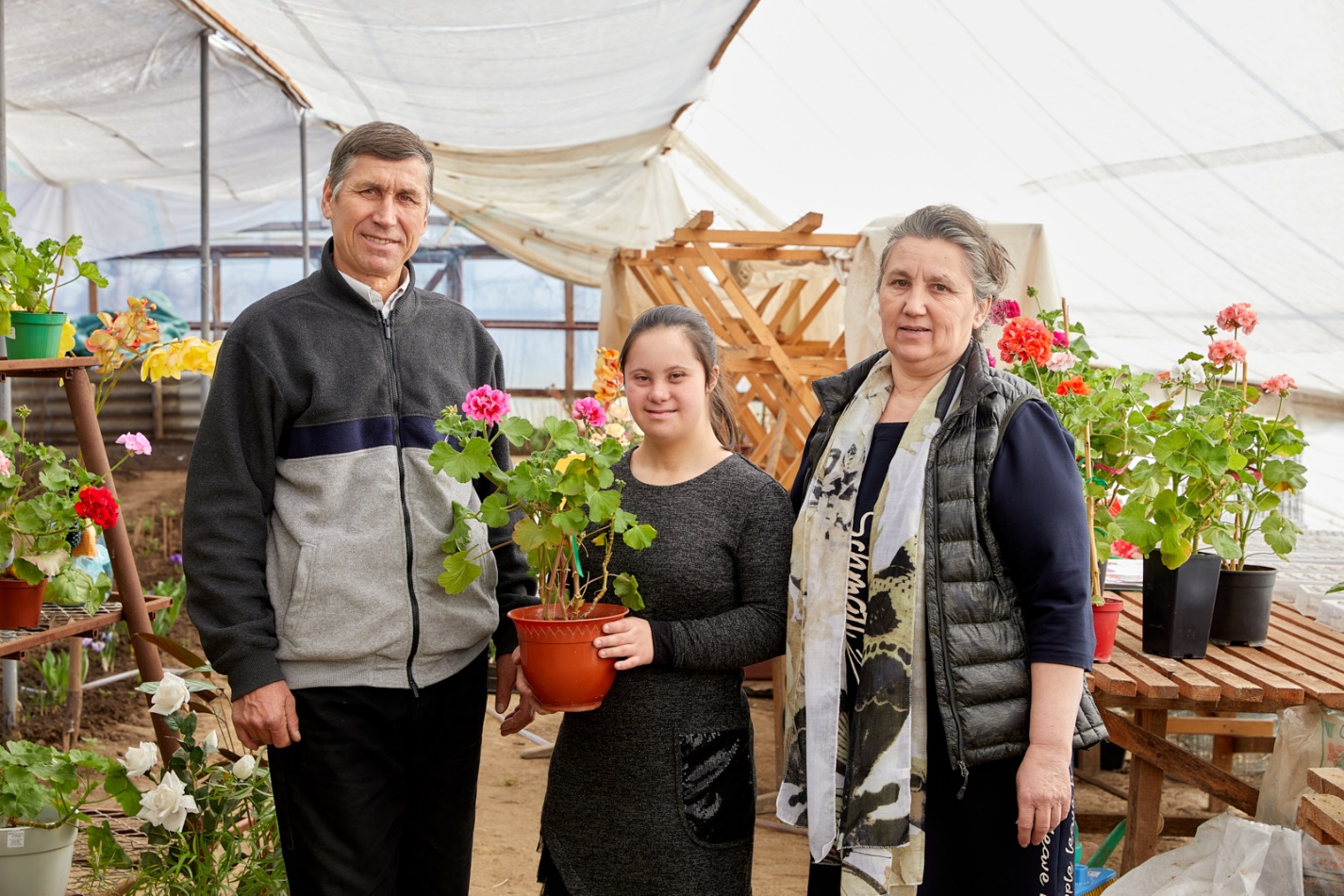 Among them is 19-year-old Daniela Pruteanu, whose cheery disposition prompted her closest friends to nickname her "child of the sun". The name makes her giggle with and brightens her face immediately.
Two years ago, Daniela and her mother, Elena, started to grow flowers in pots. The process felt daunting so her mother decided to teach her the basics of getting a small business up and running.
First, there were some seeds, then more and more, until the floor of the greenhouse built by Daniela's father, Petru, was covered with the colourful perfumed carpet of hundreds of flowers.
Daniela has fancied flowers since she was a child. Her mother inspired her to love nature and to care for every twig, every blade of grass. She loved it so much that her first word was 'flowers'.
She uttered the word when she heard her parents discussing what could be planted instead of cabbage, which required a high investment for a small profit. The suggestion hung in the air, but after a few minutes of contemplation, they decided to give it a try.
They built the greenhouse, prepared the soil, and got connected to a water supply. When sunrays penetrated the greenhouse's soft film, they planted various flowers, taking into account the market demand, of course.
"We learn slowly how to build and develop our business," explains Daniela, while watering a row of small yellow flowers that have started to blossom.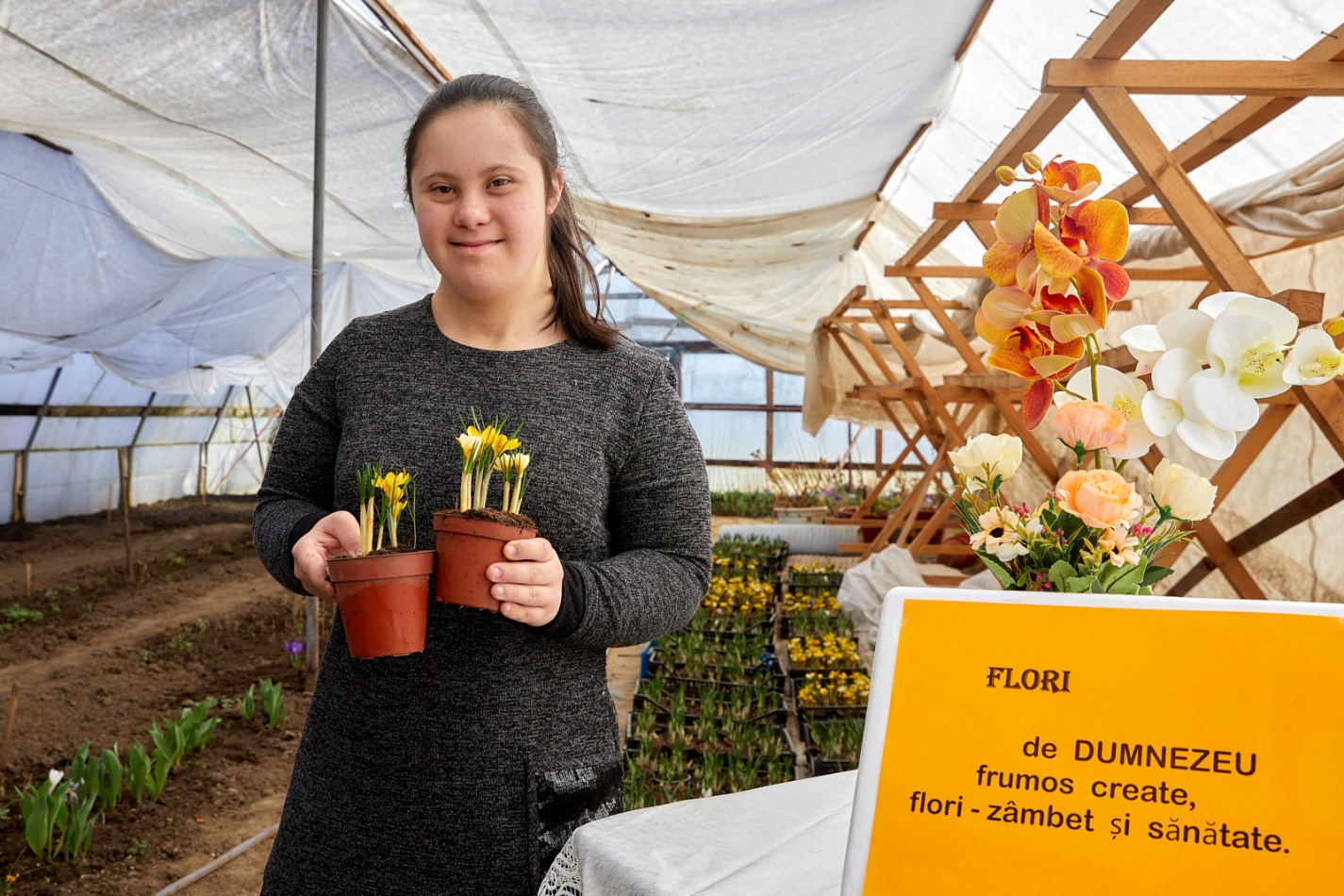 Child of the sun
Daniela has Down syndrome, but this hasn't stopped her from going to school, playing the violin, doing photography, and thinking about the future. Today, she dreams of becoming a successful businesswoman capable of building an awesome future for herself. When she was born, many people said she wouldn't survive.
She proved back then that she was strong, and she continues to prove it now, every single day. Her face lights up with a big smile when she opens the greenhouse door, the comforting heat enveloping her instantly as she passes each flower.
Daniela has always enjoyed being around nature, among flowers, as if charging herself with their energy. "I feel good among them," says Daniela.
No one can doubt that when watching her caress the leaves and petals gently, in order not to damage them. Her meditative harmony is breath-taking.
"When you do something that you enjoy, it is not just work anymore," adds her mother, Elena, and Daniela nods.
On schooldays, Daniela goes to school, does her homework, and takes care of flowers in the morning and the evening. But her entire Saturday is dedicated to the flowers. She wakes up early in the morning and hurries to the greenhouse, where she is greeted by a wave of pleasant perfume. She checks every flower to see if it needs water, vitamins or more light.
If more heat is needed, she patiently and carefully moves each pot to the cellar, which has been transformed into an underground greenhouse. There, through the glass ceiling, warm sunrays reach every flower and Daniela is lost among them. This feeling makes her intensely happy.
"We don't even notice how time goes by and it gets dark outside until Petru comes to ask us if he can help or to call us to have dinner," laughs Elena.
Sundays and the eves of holidays are Daniela's favourite times, when she fills her baskets with flowers and goes to sell them at the market in Cahul.
"It's a pleasure to share beautiful things," she says, smiling enthusiastically.
Daniela is a beneficiary of the EU-funded "EVA Project – Strengthened Gender Action in Cahul and Ungheni districts", which is implemented by UN Women in partnership with UNICEF. The project interventions aim to promote gender equality and women's empowerment through strengthened implementation of gender mainstreaming in Cahul and Ungheni districts, and to combat domestic violence affecting women and children.