Moldova-Romania Interconnection Phase I
Project Description
Moldova produces 20% of its electricity needs and depends on imports from Ukraine and Transnistria for the rest. Its electricity grid operates synchronously with the Ukrainian electricity system, although it also borders Romania, which belongs to the ENTSO-E network in Western Europe.

The Government of Moldova aims to establish power interconnection points with Romania and integrate its power system to other European power systems through Romania.
Specific Objective
- To support the connection of Ukraine and the Republic of Moldova electrical networks with the ENTSO-E Continental Europe, starting (due to the uncertainties regarding the realistic date of the synchronous interconnection induced by Ukraine) with asynchronous interconnection. The Project preparation through ECAPDEV shall ensure Technical Assistance for the Project launch, including development of technical design for the domestic transmission system reinforcement (overhead high voltage line from Vulcanesti to Chisinau substation and upgrade of two substations), including elaboration of Tender Documents, preparation of environmental and social studies/assessments.
- Construction of the Back-to-Back substation.
- Construction of the power line Vulcanesti – Chisinau.
- Reconstruction of two substation.
- Construction of new 400 kV 158 km overhead high voltage line (OHVL) from Vulcanesti to Chisinau substation (SS), an extension of Vulcanesti SS, and an upgrade of Chisinau SS;
- Construction of ME's new headquarter (HQ) building containing a new dispatch center, an upgrade of SCADA/Energy Management System (EMS), and an installation of Metering Management System (MMS);
- Construction of the new 2x300 MW Back-to-Back station.
Expected Results
- The diversification of power supply sources.
- The improvement of the security and reliability of the Moldova electricity transmission system through interconnections with Romania.
- The creation of a transparent and competitive electric power market and its integration into the regional electric power market.
Project map
Photo gallery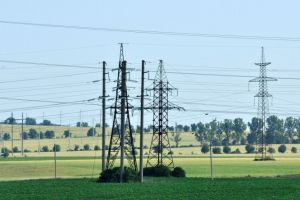 PROJECT DETAILS
Priority Area:
Partnership that creates
Subsector:
Economy & trade
EU Project Number:
400-311